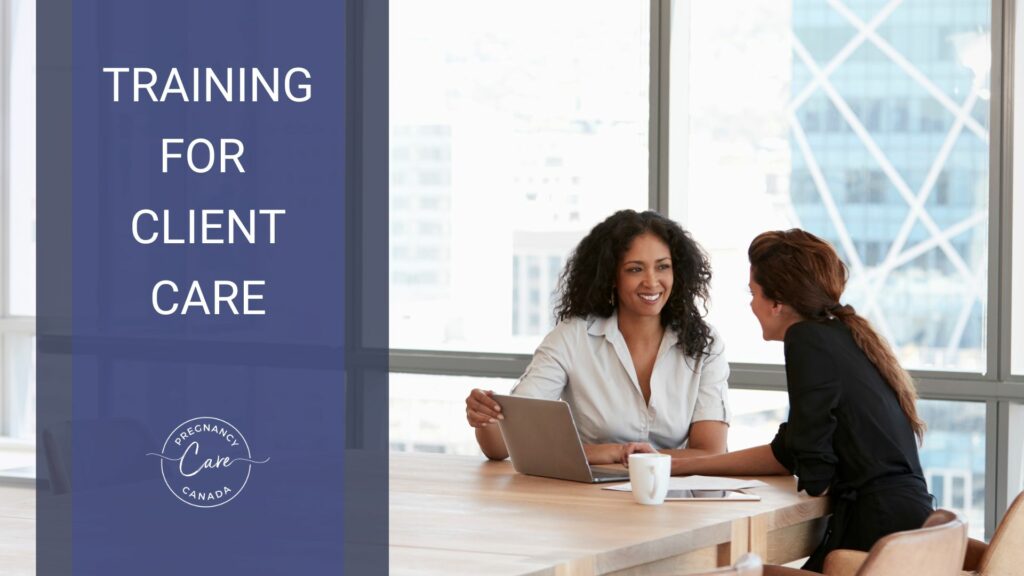 Welcome to Pregnancy Care Canada's Online Training For Client Care! We are thankful you've decided to join us in this important work! Whether you are serving on staff or as a volunteer at your local pregnancy care centre, we want to ensure you are well-equipped in your role.
Based on Pregnancy Care Canada's Training Manual For Client Care, this online training is self-paced and ensures content delivery is consistent, accessible, engaging, and efficient. The training is divided into nine modules with micro-lessons, and each lesson incorporates a variety of delivery methods and assessment techniques, including opportunities for you to connect with your training facilitator and apply what you are learning at the end of each lesson. Please refer to your Participants Guide for more information.
In this course, you will:
Learn about Pregnancy Care Canada; who we are and why we exist.
Explore the reality of pregnancy care centre work.
Examine how trauma and abuse, mental health, and other factors impact the decisions individuals make when facing an unexpected pregnancy.
Practice offering support from a woman-focused perspective.
Understand the essential principles for providing pregnancy care support.
Learn about the importance of interpersonal communication.
Learn how to share accurate medical information on all three pregnancy options (abortion, adoption, and parenting).
Examine how your beliefs can impact your language and attitudes towards pregnancy care centre clients.
Practice offering caring help from a strength-based approach.
Learn how pregnancy care centres can be a safe place for individuals experiencing any type of pregnancy loss.
Understand the flow through of your pregnancy care centre.
Determine best practices for supporting clients during their initial visit
And more!
Should you have any questions as you go through this course, contact your training facilitator.
Please know we are praying for you and asking God to bless you as you serve Him in this work!
Blessings,
Your PCC Team